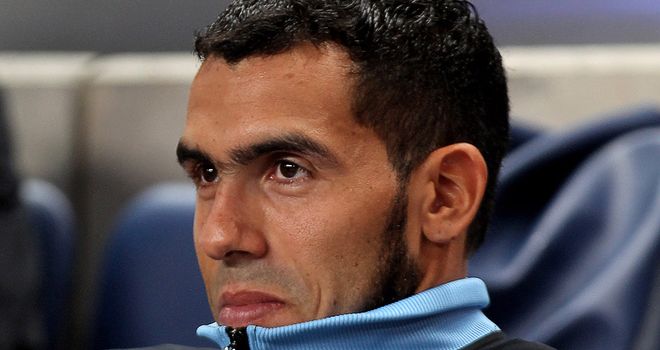 Carlos Tevez: Still wanted by former club in Brazil
Corinthians director of football Edu has confirmed the club are still interested in signing Carlos Tevez.
The former Arsenal midfielder was quoted last week, suggesting that the controversial Manchester City forward was no longer in their thinking.
But speaking exclusively on Sky Sports News, Edu has confirmed that they are very much still interested in luring their former star back to Brazil.
Corinthians tried and failed to sign Tevez in August, something Edu blamed on their transfer window shutting before the European one.
"It was quite difficult to sign him because at the time it was shortly before our transfer window," explained Edu, who said he would hold talks about Tevez.
"Now we are here [in England] and we will talk and see what the situation is and we will look to sign him in the summer.
"I will talk to the president - we offered €40million and now the money we had we have spent some of as that is football.
"We want to see how Tevez is and what his situation is, we will see if we can do a deal - he is very famous in Brazil and everyone loves him, and the fans want him."
Edu confirmed he had met with Tevez's agent Kia Joorabchian at the recent Leaders in Football conference, but insisted they did not talk about the Argentine.
"I spoke to him [Joorabchian] at the congress, but very formal not really about Tevez yet - we are quite friendly and have a good relationship but not about Tevez yet," said Edu.
"It is a lot of things to think about. Carlos Tevez has a lot of things around him."
Edu himself starred for Arsenal during his time in England and he cannot understand why any player would struggle to settle.

Tevez talks to resume

"It is difficult [to understand], I was here for five years and it was very enjoyable for me," he said.
"I don't know why someone would want to leave, I loved to live in London but perhaps he is just not used to it as I so enjoyed it."
Edu is set to meet former boss Arsene Wenger, and he defended the Frenchman, despite the Gunners' poor start to the new season.
"I will meet him this morning, I am going to the training ground to meet him," he continued.
"Maybe it has been difficult to replace the players, it is hard to rebuild your team but I hope he does it as I still have a good feeling for my Arsenal.
"Sometimes I cannot imagine why people think he is not good, he has been doing so well for so long."
Edu explained his primary reason for being in England was a fact finding mission for Corinthians' new stadium as he plans to visit the Emirates and Wembley in London, before travelling to Spain to take in Camp Nou and the Santiago Bernabeu.
"We are building a new stadium, and we are here to visit big stadiums to get knowhow for back in Brazil," he said.
"Brazil is doing well, our stadium will be opening World Cup day and we are looking forward to it.
"Everybody is looking forward to it and we are excited."